I should start by identifying what is a Google My Business page. It may be found when you search the name of a company, on the right hand side of the Google search results and includes a map and images (see below).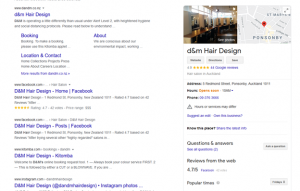 If you search a company and don't see a Google My Business page (GMB), it simply means they don't have one. The idea with a GMB page is to give basic information about a business, including website details, opening hours, contact details, map location, client reviews and more.
Google appears to have greater plans for GMB so watch out for it to progressively evolve over time.
In terms of Google Search ads, if you want to have a location extension included in your ad, then you can only do this if you have a GMB page. A location extension is added to a Google Search ad, at Google's discretion. When it does appear, it enables someone to click on it and be taken to Google maps to see where the business is located.
So, what are the benefits?
It increases your online footprint. That is to say, when people search your business name, the search results will include your GMB, making it visually easier for people to find you in the search results.
It provides contact information on your business, making it easier for people to either physically find your location or contact you.
It enables you to have a location extension if using Google Search ads.
If you don't have a website, you could use it instead for advertising (but it is not a website).
It helps to ensure you are promoted on Google maps with a pin.
What are the issues?
The reviews can potentially be a problem.
Needs to be kept up to date.
Can be difficult getting confirmed to be made live.
Let's get down to what the BIG issue with a GMB is: The reviews! Let's firstly clear this up – if you get a bad review, you will NOT be able to remove it. It doesn't matter how dishonest that review might be Google DOESN'T CARE! You can send through a complaint if you get a bad review, but don't kid yourself into thinking Google will sort it.
In absolutely rare occasions you might hear back from Google and they might do something, but in most instances, you will never hear back from them. I suspect their attitude is that there is two sides to every story, so they don't want to waste their money trying to figure out who is right and wrong, so they wash their hands of it all.
Sadly, what this means is that nasty competitors, dishonest former clients, aggrieved contacts can all have a field day on your GMB page. It gets worse! You decide to respond to either correct the facts, call the person out for being fake, or try to make amends; they get the last say! You only get to make one comment, they get to make two. This means that they can take their time and decide how to respond to your comments and ensure as much damage as possible. The last comment anyone will ever see is their comment not yours. The score they give you also counts towards your overall rating.
The issue of bad reviews is not helped by the fact that a lot of people seem to take what they see online as the gospel truth which has only encouraged trolls to go around hurting innocent people and businesses.
At times business can make mistakes and be at fault and in some instances even be dishonest; but the same can apply to customers. Particularly with the advent of Social Media there are also members of the public who go around trying to extort and damage businesses by the use of bad reviews on Social Media and Google.
Let's be clear, not everyone has a bad experience. Some people are lucky, in which case the rating system works well for them. It enables them to show off positive reviews from their clients and encourage future clients.
So, is a Google My Business page worth it? I would say, only if you are one of the lucky ones that don't have a problem with reviews. The answer is probably to have one, but if the reviews become a real problem, take it down as it could end up doing more harm than good!
Related articles:
https://msofmarketing.com/can-you-do-google-advertising-yourself/